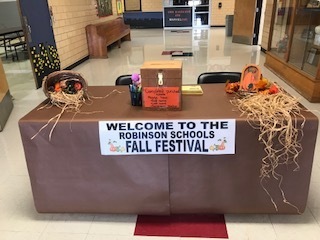 Fall Festival was a HUGE Success!
Danielle Jones
Tuesday, September 25, 2018
Robinson Schools Fall Festival was a HUGE Success! On the evening of the festival, 465 people joined us for an evening of family fun. During the event, students and their families played games, ate hot dogs and caramel apples, and got a face paint. We even had a photo booth outside for a special fall themed picture. As they participated in activities around the building, students got a punch on their cards so they could enter into the prize drawing.
A special thank you to the community members at Aurora Baptist Temple, Jimmy Michel Motors, and Arvest Bank for helping make the evening so much fun. We also appreciate all the wonderful donations form Aurora United Methodist Church, First Independent Bank, The Strike Zone, Sodexo, and Ozarks Coca-Cola Bottling Company. Last but not least, we are thankful for the grilling efforts of Mr. Mais, Chad Vaught, and Dr. Redus. Dinner was awesome!