The following events have been postponed until Tuesday, December 17th: High School Girls Basketball at Seneca. 8th grade Girls Basketball at Marshfield. 7th grade Girls Basketball at Mt. Vernon.

The internet and phones are down at RES until further notice. If you need to contact us feel free to come in or message our Facebook page!!

Individual student reports (ISR's) for the Spring 2019 MAP assessments were mailed home Monday, December 2nd. These reports indicate individual performance on the ELA and math assessments in grades 3-8 and the science assessment in grades 5 and 8. Please contact your child's office if you have any questions.

Just a reminder that we do not have school next week! See you December 2nd!

Aurora High School will be performing the musical 'Annie Jr.' this weekend. The show will take place in the High School Black Box theatre on Saturday at 7 pm; Sunday at 2 pm and Monday at 7 pm. Cost of admission is $5 and doors will open 30 minutes prior to the performance. Please come out and enjoy the show.

Join us in celebrating World Kindness Day tomorrow.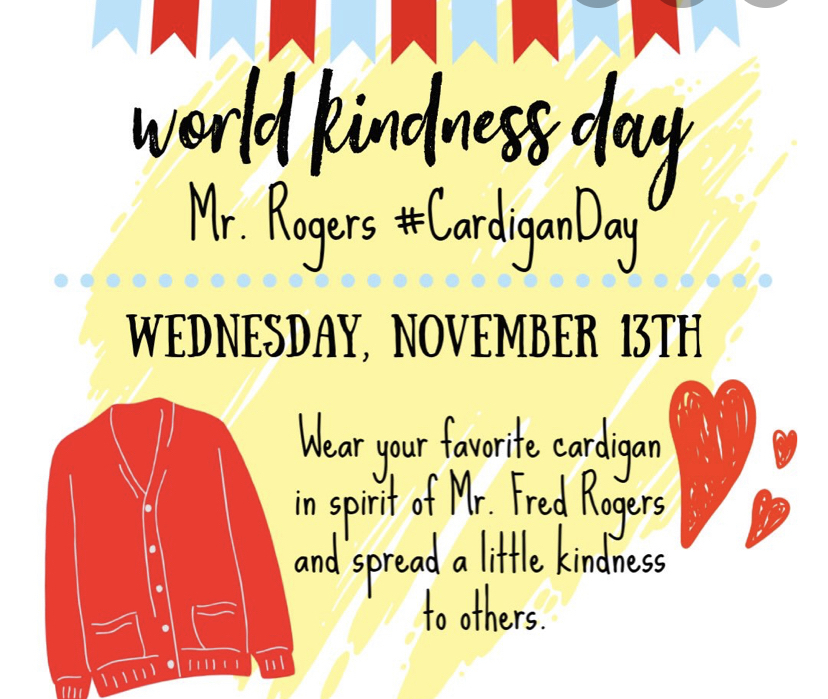 The Aurora R8 School District and Lawrence County Health Department will be conducting our 2nd annual Community Flu Shot Clinic located at the Aurora High School on Tuesday October 29th from 330-630pm. Flu shots for students will be $5 unless you have an active Medicaid card. You MUST bring your students medicaid card with you. Adults needing a flu shot must also bring their insurance card. If your insurance plan is an acceptable plan then the cost will be covered. If it is not, the cost will be $30. Feel free to contact the Lawrence County Health Department with any insurance questions.

Athletic Booster Club Tailgate Party starts at 5:30. Food, games and fun. At 6:30 meet your Fall Houn Dawgs before 7:00 kickoff vs. East Newton. See the school website:
www.aurorar8.org
for all the details.

Come out and support your Jr. High Cheerleaders at their annual car wash. They will be at Aurora Baptist Temple (1013 S. Elliott Avenue) from 9:00 to noon tomorrow, Saturday, August 31st.

Come support the Aurora Jr. High Cheerleaders. Saturday, August 31st from 9AM to Noon at the Aurora Baptist Temple on 1013 South Elliott. The cheer squad will be having a car wash.

Picture day tomorrow (8/22) is for High School and Junior High students.

Don't forget picture day is tomorrow (Thursday, August 22nd). Say cheese!

In case you are wondering if your kids are out in the heat - Recess status 8-20-19

Aurora R-VIII students will begin a new, exciting school year tomorrow, Wednesday, August 14. Please be patient with drop-off and pick-up lines and bus routes as we work out the process during the first few days. We are looking forward to a successful 2019-2020 school year.

Wondering about your child's bus transportation for 19-20?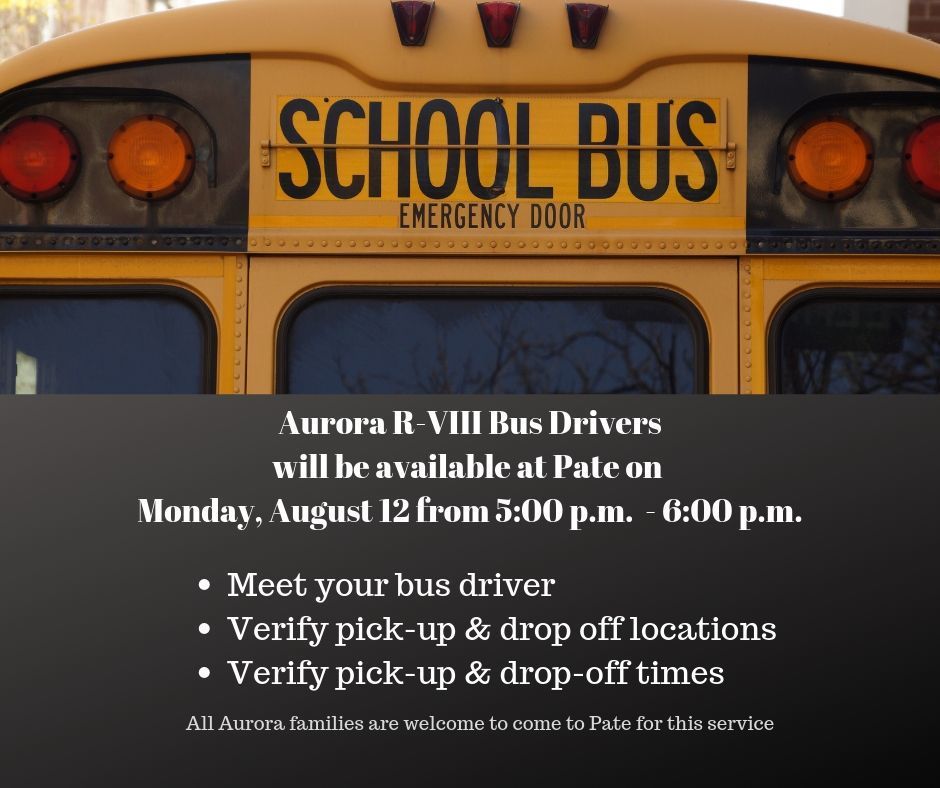 The make up day for Mighty Mite registration is Monday, August 5th at Robinson from 6:00 to 7:00 PM

Online registration is now open. You will find a link on the Aurora R-8 Schools website. Pate is open until 7:00 this evening (August 1), High School will be open Monday, August 5th from 12-7 p.m. and Robinson Elementary and Intermediate will be open August 6th from 12-7 p.m.

Mighty Mite football sign ups will take place on Monday, July 29th for incoming 5th and 6th grade students and Tuesday, July 30th for incoming 3rd and 4th grade students. The registration fee is $60.00.

Houn Dawg Boys Basketball camp begins on Monday, July 29th at Pate. Incoming 4th through 6th grade is 3:30 to 5:00. Incoming 1st through 3rd grade is 5 :00 to 6:30. Cost is $20.00 and walk up registration is available on Monday.