Aurora Families: The enrollment period for students interested in virtual instruction during the second semester opened today, November 30, 2020 and runs through Thursday, December 10, 2020. This is the time period in which virtual decisions must be made. All students wishing to make a change, either to or from virtual instruction, must make an appointment with David Mais, Assistant Superintendent, in order to begin the process. Please call 417-678-3373 to schedule your appointment as soon as possible to ensure a meeting time. Educationally, DM

For those traveling to Hollister on 11/12 for the Jr. High Girls basketball game. The game order will be: 7th Grade A, Combined B game, and 8th grade A. Games begin at 5:00. The spectator guidelines are as follows: 1. Mask must be worn for entry 2. If you cannot social distance then a mask must be worn 3. Please have a mask on as you move through the gym 4. We encourage families to sit together 5. Do not sit in the closed rows 6. All Hollister students in the student section must wear a mask 7. Visiting students sitting in a student section must wear a mask 8. No one will be allowed on the floor following the game

Aurora Families: The enrollment period for students interested in virtual instruction during the second semester is quickly approaching. November 30, 2020-December 10, 2020 is the time period in which virtual decisions must be made. All students wishing to make a change, either to or from virtual instruction, must make an appointment with David Mais, Assistant Superintendent, in order to begin the process. Please call 417-678-3373 to schedule your appointment as soon as possible to ensure a meeting time. Educationally, DM

For those traveling to Cassville on Tuesday, November 10th for Jr. High Girls basketball. Starting at 5:00. Game order is 7th grade A, B Game, 8th grade A. Cassville has the following restrictions in place: ❖ Face coverings are encouraged when social distancing is not possible. ❖ Home fans will be seated on the EAST end of the gym. ❖ Visiting fans will be seated on the WEST end of the gym. ❖ Student section will utilize every other bleacher. ❖ Selected bleachers will be labeled NO SEATING for both schools.

Come welcome home the Girls Cross County team that placed 4th in Class 3 at the State meet today. Welcome them home at the High School at 9:00 PM.

Going on right now until 8:00 PM swing by the High School and get chili, cornbread and brownies for $7.00. This is a drive-thru event. All proceeds go to support the Aurora High School Band. Come get some delicious food while it lasts.

Youth volleyball signups for 3rd through 6th grade will take place tonight (Monday, October 19th) at Aurora Baptist Temple gymnasium. Sign ups are from 5:30- 6:30 PM. The season begins on January 18th and includes 8 games. The fee is $75.00. Contact
volleydawgshd@gmail.com
or VolleyDawgs Volleyball on Facebook for additional information.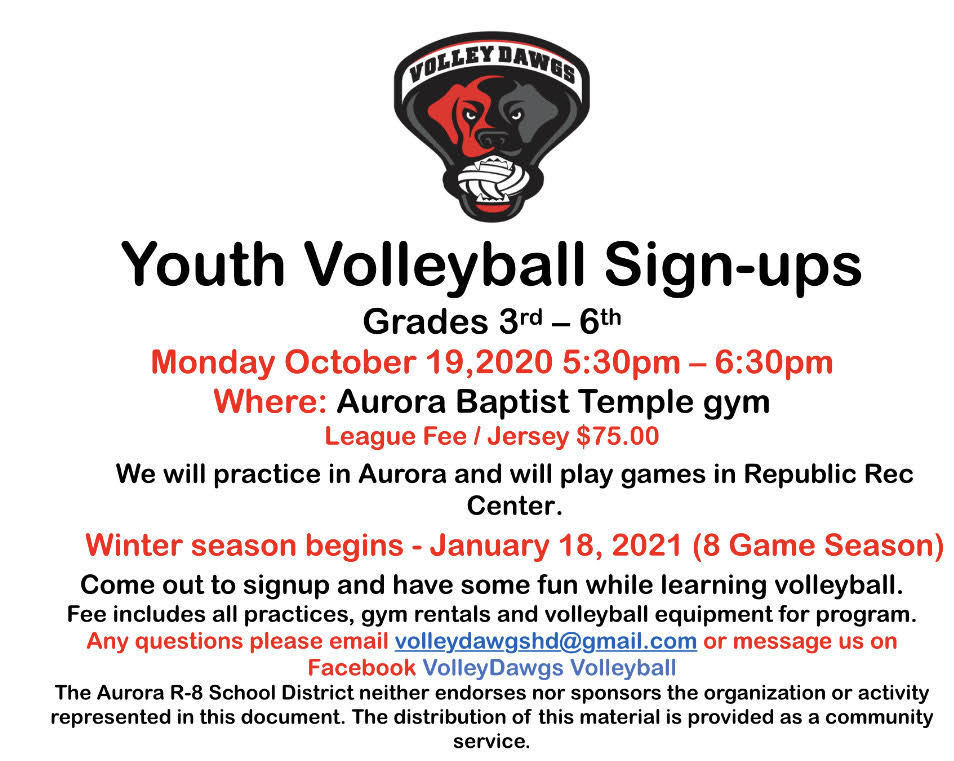 For those traveling to Reeds Spring on Thursday, 10/15 for the Jr. High Football games: Spectators will need to wear face coverings to get into the stadium and will be required for all spectators until they can properly social distance. Spectators are encouraged to wear face covering when they leave their seat. (ex: restroom, concession stand, commons area).

Be sure to come out today at 4:30 p.m. to Aurora High School at 305 W. Prospect. We are having a 10th Annual Parking Lot Party in front of the school to kick off Homecoming Week: Dawgs In Hollywood. The Aurora Athletic Booster Club will feed us, we will introduce fall activity rosters, homecoming candidates and their parents and coaches. The cheerleaders will perform and so will the Marching Houn' Dawg Band. We will not be lighting a bonfire this year due to the dry conditions, but we will get fired up nonetheless for our favorite Houn' Dawgs. Come join us and Go Dawgs!

If you are heading to Marshfield for the Houn Dawg football game this evening (10/9) and still need a ticket. Mrs. Blackburn will be at the visitors gate with some extra tickets available. Gates do not open until 6:00 PM

Aurora R-VIII Parents/Guardians: Fall parent/teacher conferences are quickly approaching. Due to limiting visitors in the buildings, these conferences will look differently than in years past. Parents of students in Kindergarten-6th grade will have individual phone conferences with their classroom teachers as scheduled in previous years. Jr High and High School parents are being asked to email individual teachers they would like to conference with to begin the scheduling process. More information from individual buildings will be sent shortly. Please contact your child's building office if you have any questions.

Spectator information for those traveling to Hollister for the High School Volleyball games on Tuesday, October 6th: 1. Mask must be worn for entry 2. If you cannot social distance then a mask must be worn 3. Please have a mask on as you move through the gym 4. We encourage families to sit together 5. The upper level of the HS gym will be open to allow more room for seating 6. Do not sit in the closed rows 7. All Hollister students in the student section must wear a mask. 8. Visiting students sitting in a student section must wear a mask. 9. No one will be allowed on the floor following the game. 10. We will provide water but each team is responsible to have an individual to get water for teammates.

Information for those fans traveling to Hollister for the JV Football game on Monday, October 5th. 1. As of now, no restrictions on attendance 2. Masks are required for entry and worn if cannot social distance 3. Fans are welcomed to bring lawn chairs and sit outside of the ropes and on the grass 4. Restrooms will be open near baseball field in addition to our football restrooms by the concession stand 5. South of the field is visitor parking, very easy to get into the stadium 6. No fans on the field after game 7. Our concessions are at the west end but we will have other areas to buy drinks

Protocols for those traveling to Marshfield on Monday, 9/21 for the Varsity Softball game. Protocols 1. For all events, both indoors and outdoors, properly worn masks are required for entry and anytime an individual is up and moving around the venue. The mask may be removed while seated. As with our reopening plan this applies to students in grades 6 and higher and all adults. 2. Spectators are asked to be properly socially distanced from others that are not members of their own household. All venues will require that one empty row of seats/bleachers be left in front of and behind each family, along with six feet of lateral distance (for example, three chairback seats) on each side of the household group. 3. Concessions and restrooms will be open. 4. Guests must be masked and remain six feet apart while waiting in line. 5. No non-participants (adults, students, etc.) will be allowed to enter the field, court, or performance area upon completion of the event. 6. Students and young children must remain seated with their parents during the entire event. The only exception to this is for members of the student body that are seated in the student section. Venue Capacity A. All indoor and outdoor venues will be limited to 50% capacity. B. In indoor venues, all available bleachers/seating will be open to spectators. C. Based on historical observations, the only event that exceeds 50% capacity is varsity football games on Friday nights. D. Home and Visitor sections will be clearly marked. E. Student Sections are reserved for MHS/MJHS students only and will be clearly marked.

We will honor band, cheer, football and soccer seniors this Friday, September 18th prior to kickoff of the Bell Bowl vs. Mt. Vernon. Ceremony will take place around 6:45.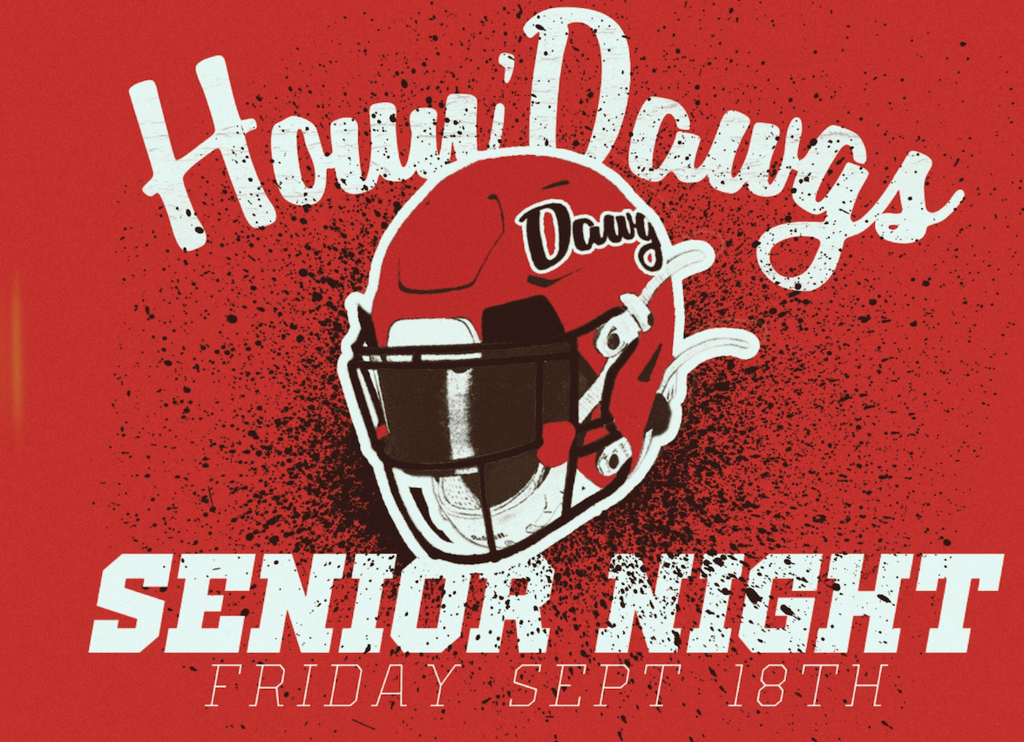 Spectator Guidelines for those traveling to Hollister on Tuesday, September 15th to cheer on the Jr. High Volleyball team: 1) Social distance as much as possible. 2) When social distancing isn't possible, masks must be worn. 3) Masks must be worn upon entering, in hallways, and in common areas such as the concession stand.

For those traveling to Logan-Rogersville on Friday, September 11th to cheer on the Houn Dawg football team, the following guidelines are in place: 1) Masks are required at all times for indoor events and required at outdoor events when spectators are out of their seat entering/exiting/concession/restroom/etc. for all agestwo (2) and older. 2) Physical distancing is required at all times when spectators are not sitting with their family unit (household). 3) Students and young children must remain seated with parents at all times during the entire event. The exception is students seated in the student body section. 4) Logan-Rogersville School District will utilize the facility capacity guidelines set by the Springfield-Greene County Health Department to determine the number of spectators allowed to attend athletic/activity events. Admission will be closed when the administration determines physical distancing is no longer possible due to capacity limitations. 5) Spectators are encouraged to bring lawn chairs/blankets for limited seating on the track.

Good luck to the Soccer Dawgs on Saturday, September 5th. They play in the championship of the Cassville tournament at 12:00. They will take on McDonald County.

Information for those traveling to Monett on Friday (9/4) to cheer on the Football Dawgs: 1. Face coverings will be highly recommended for spectators. This is recommended especially when leaving seat to use the restroom or go to the concession area. 2. The band will perform and sit in the North end zone. 4. Visiting fans will sit on the East side bleachers, they will have access to restrooms connected to the concession stand. The Concession stand will have a specific window for our visiting fans. 5. Fans are encouraged to sit on the hill or bring lawn chairs to sit up near the locker room or south of the home bleachers. 6. Children need to be near their parents. No running or playing behind the bleachers. 7. Fans will not be allowed on the track before, during or after a contest. 8. No gatherings on the field after the game. Players will be rushed to the locker room after the game. No gathering will be permitted in the parking lot after the game. Parents are encouraged to wait in their vehicle for their child after the contest.

The Aurora Houn Dawg Football game vs. McDonald County will be streamed for those who want to view at home. Use the link and click on the Aurora Houn Dawg Icon.
http://www.radiotalon.com/webtv